by Aparna Ganesh Ram
Dec 02, 2022
Why is dairy milk not meant for humans?
Why is dairy milk not meant for humans?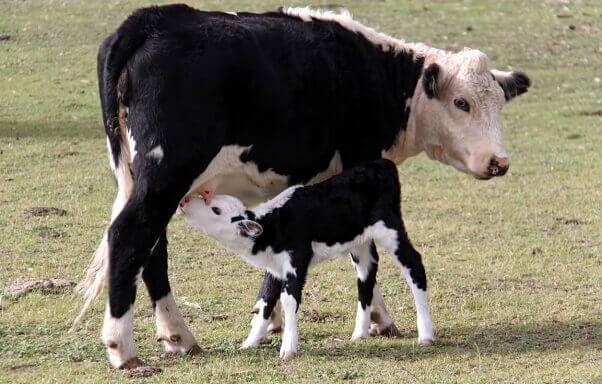 Introduction
Dairy milk derived from the cow's udders is meant for baby calves. And, definitely not for us humans. Why do you drink your mother's breast milk? You drink your mom's breastfed milk as the baby teeth may not have grown for you during the initial period of your existence. For the milk teeth to grow, mammals feed their babies with milk. The natural milk that mammals produce comprises calcium, Iron, Potassium, magnesium, and other nutritional components to sustain your growth or development during the initial years of your life. 
When you start developing milk teeth, that is primarily when you begin to chew your food. It was not until 10,000 years ago that European farmers began domesticating animals like cows, buffaloes, sheep, goats, etc. Then, these farmers introduced animal secretion to us in the form of dairy milk. Let us discover 11 important reasons why dairy milk is not meant for us as human beings. Helping you get started on the same:
Dairy milk robs your body of Calcium
Dairy milk can steal the Calcium you already have in your body. Do you want to know how? Cow's milk contains acids. In order to break the acids, the body uses up its own share of Calcium. The Calcium, the milk contains, also gets utilized in neutralizing acids the animal protein contains. 
We call this form of animal protein 'Casein'. This is how every glass of cow's milk you consume; you are invariably leeching out Calcium from your bones. Those who drink higher amounts of milk or dairy products are more susceptible to fracturing their bones than those who hardly drink any milk. Are you a cheese lover? Add heaps of saturated fats, sodium, and cholesterol, on top of the same.
Prostate Cancers
According to a series of research surveys done by medical scientists across the globe, it has scientifically been proven that people who consume higher amounts of milk, cheese, or other dairy products are at an increased risk of developing prostate cancer than those who don't. 
80% of humans have lactose intolerance
It is estimated that almost 80% of human beings have lactose intolerance. It simply means that your body does not have the capacity to digest the lactose, that is present in cow's milk. This is how you develop nausea, bloating, muscle cramping, etc. The symptoms can worsen as you grow with age.
Do you want to have more acne?
It has clinically been proven that the consumption of dairy milk by human beings is directly proportional to the increase of acne or facial marks that the acne leaves behind. Dairy lovers, both men, and women have an increased amount of acne. The pimples grow and the severity accentuates upon increasing the consumption of milk or dairy products. 
Increased levels of cholesterol
Quite a lot of steroids, hormones or injections are fed to dairy cows to accelerate or increase their productivity of milk. Hence, when you drink an ounce of milk, you also carry these harmful chemicals the animals get pumped into you. Also, it is roughly estimated that one ounce of dairy milk contains about 24 mcg of heart-harming cholesterol. You can go cholesterol-free when you switch over to plant-based milk as a matter of fact. 
Women developing Ovarian Cancer
Women who consume more than 4 cups of dairy milk, be it their cups of tea, latte, or hot chocolate, can impact their body's metabolism to a devastating extent indeed. The incidence of women developing ovarian cancer is twice as for avid dairy consumers as for women who do not drink dairy milk at all. 
Milk allergies prevalent among babies
Are you a mum who feeds your baby with dairy milk? Due to the presence of lactose in animal-derived milk, kids can develop allergies that can result in potentially dangerous reactions. Kids resort to vomiting or indigestion when they are exposed to milk, cheeses, and chocolates all the time. 
Superbugs impacting humans late
Cows or milch animals are pumped with dozens of antibiotics to help them survive and produce milk as the farmers dump them under dirty and filthy farm conditions. The antibiotics get into the human being's gut when we consume dairy products in alarmingly larger quantities. While this happens, you also consume the very same antibiotics the cows or dairy animals were pumped with. What consequences does the human face? When you get a cold, cough or fever, the antibiotic tablets that you doctor has prescribed barely works on your body. The antibiotic particles has already gone into your body through milk and its by-products. Your body does not respond to medicines or antibiotics in case you are ailing from a severe form of bacterial or viral infections. These bacteria or viruses, therefore, become superbugs not allowing the body to fight infections in a robust manner. You are therefore left with a weakened form of immunity, as a matter of fact. 
Wanna load up saturated fats
A typical American diet comprising 60% of saturated fat comes from your very own dairy milk. You have 3 glasses of wholesome milk, and you go on to accumulate 60% of saturated fats in your food. This is even without you having had a single meal for the day. Bring the cheesy pastas and pizza toppings on. You will develop heart problems when you accumulate saturated fats or what is known as cholesterol.
Obesity among adolescents
Teen children are increasingly gaining their weight due to consumption of dairy milk. The kids consume cheeses in the form of pizzas or burgers. Young boys and girls drink gallons of the cold cafe. Add to it, sugar-laden glasses of hot drinking chocolate. The saturated fat that milk contains can help you grow fatter just about in a jiffy. Teenage adolescence is a growing concern amongst affluent countries of the world today. 
Sodium intake increases
When you consume dairy cheeses, you are consuming more sodium. It is estimated that one ounce of cheese almost contains about 400 mcg of sodium. Cheese varieties like halloumi, imported blue, feta, and other processed ones are saltier than even seawater. 
Conclusion
We have therefore seen 11 important reasons why dairy milk is not meant for humans. Would you love going dairy free and pledge going vegan there? Then, I should see you on top of the dias. 

About Us:
We are an online vegan store, named Vvegano, based out of India. We have personalized lifestyle products catering to people belonging to the present millennium. You get nut butters, mock meats, plant-based sweets, dairy-free alternatives, groceries and wellness care products from our store. Do check out some of our outstanding collections right here:
For more, log in to https://www.vvegano.com